Archive for June, 2009
Sunday, June 14th, 2009
Last weekend, after several months of planning, dozens of meticulous emails, an ever-changing pre-production meeting date, auditioning actors, and an overall feeling of excitement, nervousness, and exhaustion, my crew and I stepped into the ring with 70+ filmmakers to compete in the 48 Hour Film Project. It was a near non-stop weekend of madness, with barely enough time to contemplate what was being written, shot, or edited. I hand-picked a hefty crew of amazingly gifted people and assigned each of them to a specific task. Though each member of the crew had various levels of production experience, I knew this was a team that could work well together even under such a tight deadline. As Dan (writer/editor) mentioned, "I've never been on a production of this magnitude without seeing one argument on set!"
I never thought I'd use this word to describe something, but the synergy of the cast and crew created an uplifting experience that pushed each of us towards this one goal, as Claire (wardrobe/set design) described, "to make a film that people won't throw tomatoes at." In the few moments on the shoot when I had a chance to observe how cast and crew members were getting along, I remember seeing a lot of smiles and laughter. But as comfortable as we were together, when it came time to work, we made it happen.
Still, the weekend definitely had it's bumps in the road. The biggest one for me being that I lost my cousin Chris to the stomach flu, who was supposed to help me direct the film. But Bing, one of the writers, willingly took the load that I cast upon him so that I can focus on being cinematographer, which was an arduous task in itself (seeing that I would have to create a shotlist on-the-fly and make sure I had enough coverage of the scene for a good edit). With such a large cast and crew (22 total crew members and 5 actors), you can imagine the chaos and interesting challenges that took place. That is why I designated a team (Antonio, Mike, and Cedric) just to document the whole weekend so people can get a feel for everything that happened behind-the-scenes. It's also a chance to give credit to each hard-working crew member who was integral to the production in one way or another. Documentary coming soon!
I'm so friggin' proud of my cast and crew and what we accomplished in such a short time frame. Tomorrow night is our screening at the Roxie Theater in San Francisco. Our film will be screened with short films created by 13 other teams. I'm very anxious to see the kind of response our film will receive as well as see what other aspiring filmmakers created last weekend. It should be a great night to celebrate our accomplishments, no matter the results (awww…).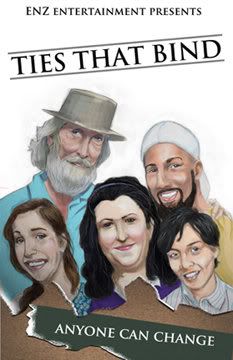 (movie poster created by Louie Ejanda)
Team Name: ENZ Entertainment
Movie Title: Ties That Bind
Movie Screening Location: Roxie Theater
Times: 7:00 PM w/ Q&A and 9:30 PM
Date: Monday, June 15th, 2009
Host: 48 Hour Film Project – San Francisco – www.48hourfilmproject.com/sanfrancisco
Here is the link to purchase tickets:
http://tinyurl.com/kjwesh
(Tickets are expected to sell out as they have done in previous years. Get them right away.)
Hope to see you all there!