Posts Tagged 'tahoe'
Saturday, September 22nd, 2012
One day in May of 2011, while listening to the "Braveheart" station on Pandora (i love my epic movie soundtracks), an ad was displayed that showed a silhouette of people marching through a blazing fire with the words "Tough Mudder – Probably The Toughest Event On The Planet". With the height of the music playing, envisioning William Wallace's march into the battlefield, I clicked on the ad and found myself totally intrigued with this event.
Four months later, I found myself staring at the mountain at Squaw Valley with 5 other brave souls on my team, ready to tackle 11+ miles, +2300′ elevation, and a flurry of military-style obstacles that included 12 foot walls, crawling in the mud through barbed wire, swimming through freezing cold lakes, and getting shocked by 10,000 volts of electricity.
I brought with me an Olympus Tough camera (waterproof, shockproof, dustproof) that proved to be a soldier itself. I played around with the footage we shot and here is the result!
Overall it was an amazing experience and ultimate challenge. It also forced me to get healthy and back in shape, which has benefited me in my daily life (even my blood pressure is now at a normal level).
We are back for Tough Mudder Norcal 2012 with a bigger team and new, anxiety-filled faces. I missed documenting a few opportunities last year because of battery life, but we are bringing plenty of cameras and power to document the whole experience. Plus, this mountain looks to be much meaner: more ICE obstacles, more ELECTRICITY, more MUD!
There's no greater motivation than the fear of failing yourself or your team on that mountain. Somebody give Pandora's marketing director a raise! And thank you James Horner for inspiring the epic.
Saturday, October 10th, 2009
in the morning, i had a warm plate of blueberry pancakes…

Then started the long drive to my next destination.. Weather was gloomy for the first several hours.

Hmmm… maybe i should've crashed here:

Drove through part of Oregon, found a bit of snow!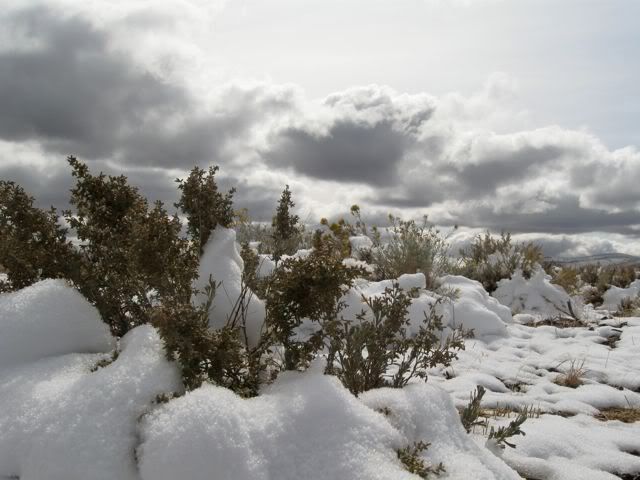 Then crossed the border into Nevada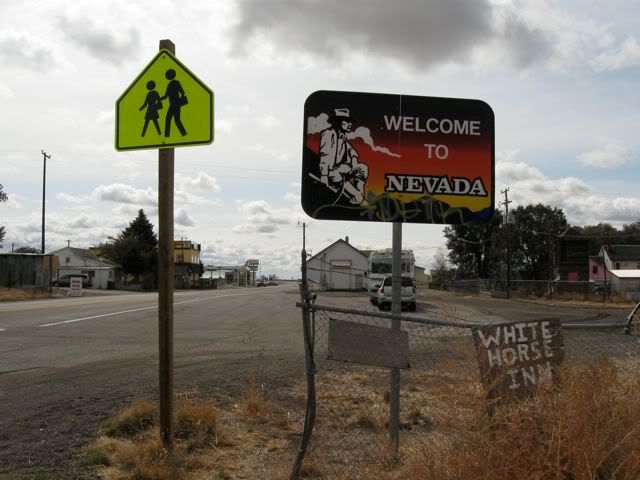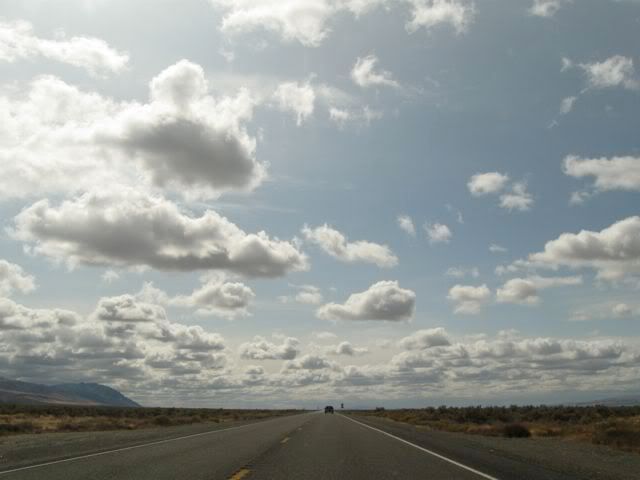 Caught the Bears game through my iPhone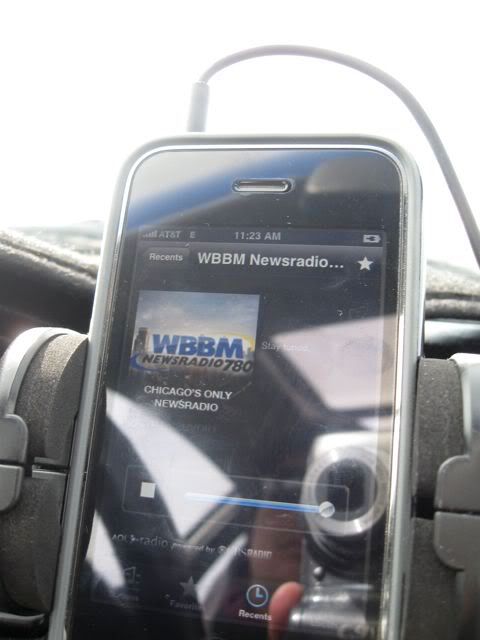 Found a very familiar highway

Was planning to make a night stop in Reno, but I was making good time and decided to push my way to the finish. Had one more chance to dive into a local eatery:

And when I saw the "Welcome to California" sign, I had to rock out to this!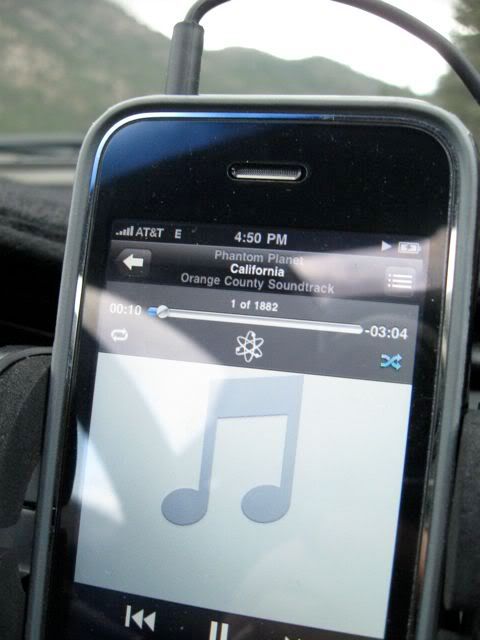 then I was treated to a nice drive through a snow storm in the sierras.

Then the exhaustion started kickin in. Dizzy, feverish, spent. I felt like how this picture looks: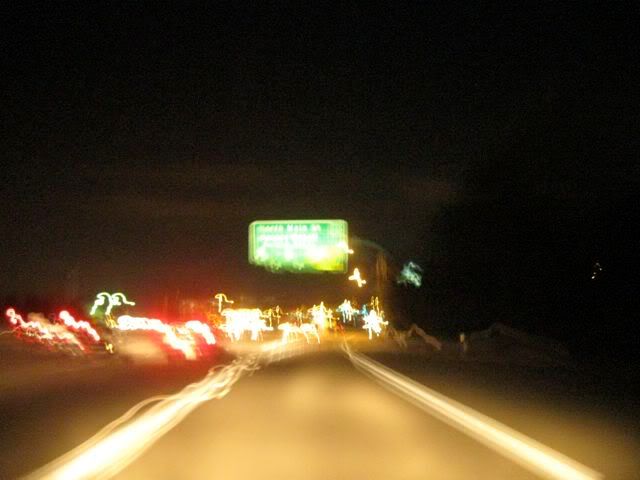 BED Day 13 +!!!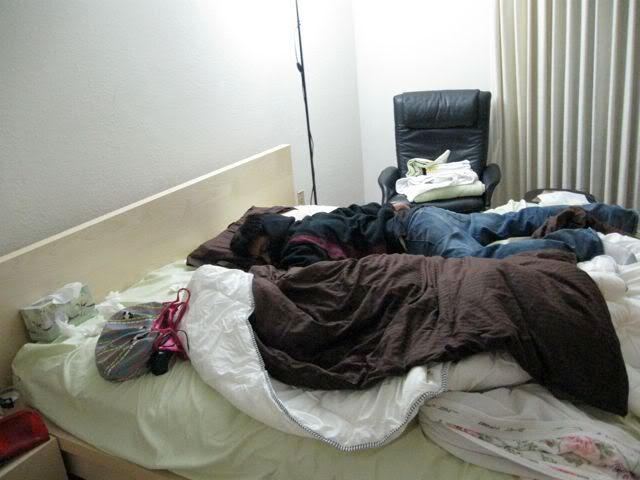 Summary: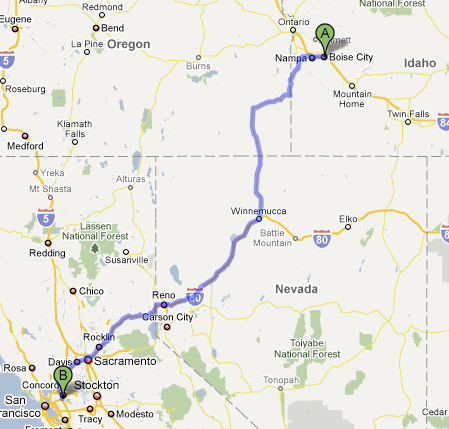 Cities: Boise, ID > Walnut Creek, CA
Odometer Begin: 211470
Odometer End: 212110
Day Miles: 640
Gas Prices: $2.70, $2.95, $2.90
TOTAL Miles Across America: 4,464
Next: Summary, FAQ, and tips learned from my road trip. Feel free to ask me any questions of your own!